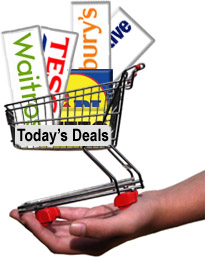 CHECK OUT TODAY'S DEALS AT YOUR LOCAL STORE
Before you shop, click the Logos below to find out the latest deals on branded and own brand products at your local store.
You may find that a leading Brand has a promotion on that brings it below the price of the Supermarket's Own Brand or that Tesco's offers are better than Aldi's or that Waitrose's are cheaper than Sainsbury's.
Sign up for the Latest Trolley Tips' Newsletter Today .